.
.
.
.
fade @ Shibuya CYCLONE
2013/04/19
.
.
.
This live blog will be a bit different from what you are used to!
Because this one will be written in a cooperation of Bernie (
berniechan
) and me.
We figured out it would be easier writing one together
rather than making two whole reports saying almost the same.
Also: this blog will give you basic hints on polite behavior in a Japanese venue!
.
.
.
[
Preperations (click to open)
]
Preparations
.
.
If you ever wondered how I make stencils, there is an example *lol*
.
.
.
.
.
Copy the stencil on transparency paper
.
.
.
.
.
.
Put on double sided tape ON THE BACKSIDE!!! of the stencil
And then remove the protecting paper, paste it on your body,
fill it up with make-up and remove the stencil after
.
.
.
.
.
.
And then you can draw around it :)
This times topic:
"fade is my/our light and fire, they light my/our fire"
The orange colour is a neon colour that shines (almost burns) under blacklight
I guess I don't have to explain more.
The title surely gives enough insight on my feeling behind this art *lol*
.
.
.
.
.
.
The wristbands were connected by a thin string,
the upper one on my arm kept them all in place so they'd hang there nicely
instead of gathering all around my wrist.
.
.
.
.
.
.
If you see the re-made T-shirt for the first time, then go
HERE
for the tutorial
I was wearing it for this live the first time, so you'll hear more about that matter.
.
.
.
BERNIE:
My preparations aren't really much. Kansai -> Kanto by night bus (pretty comfy! They provided a blanket to use!) so I got to sleep quite a bit (The trip back was much better I pretty much knocked out and slept almost all the way back). Then it was get to the hostel, get lost trying to find the hostel, finally find it, sleep for a few hours then eat breakfast, write letters, eat lunch, get ready to head out.
.
.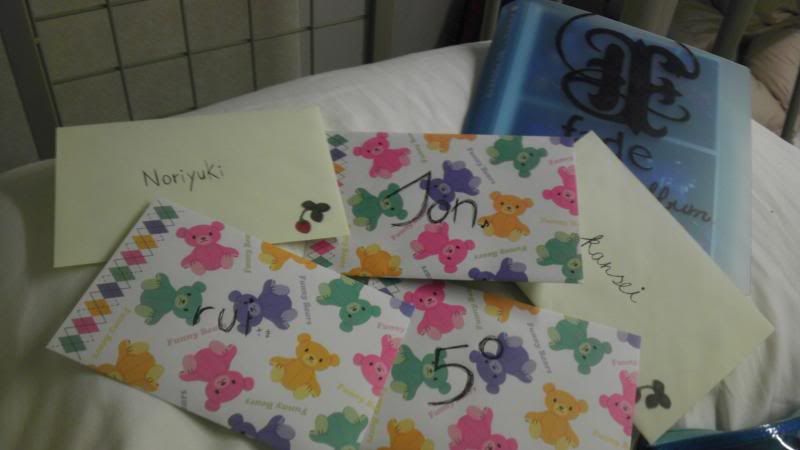 Letters for the guys! I had lots of time so I wrote them before getting ready to head out.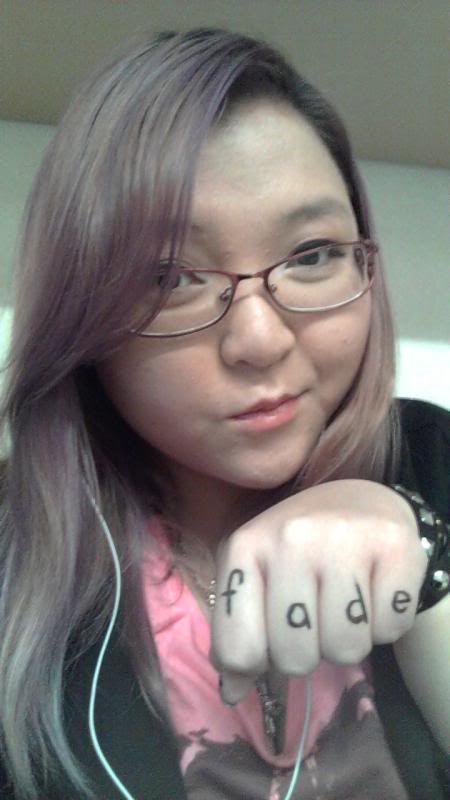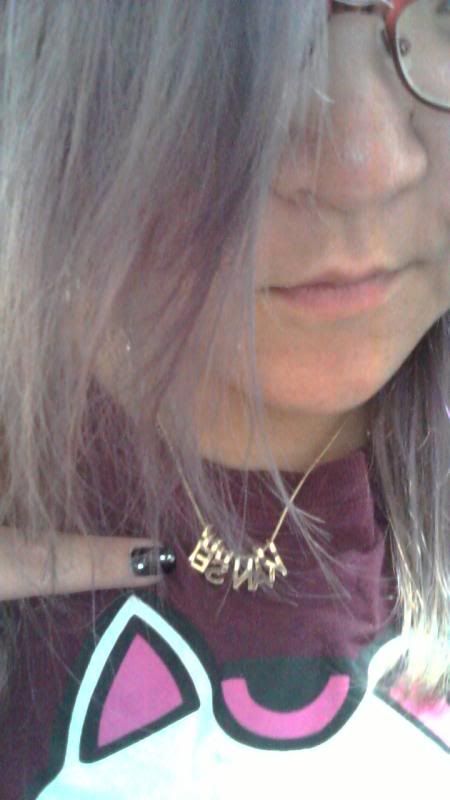 Left: My get up for the day! wrote 'fade' with waterproof eyeliner
Right: My necklace that says "Kansei"
(it was backwards so Ka-chan & another fan helped me fix it later)
Then it was off to Shibuya to meet Ka-chan and Shannon!
.

.
.
[
Meeting up (click to open)
]
Meeting up
.
.
.
Before the show, Bernie and I met up with our dear friend Shannon (
shamezmerizer
)
And the both ladies brought me to my first purikura session ever.
I find purikura scary, because it edits your face so much, that you look like a doll.
And now someone tell me we DON'T look like dolls *lol*
It goes so fast, too, so we didn't know what we're doing.
My two purikura-experienced friends did quite a good job through ;D
.
.
.
.
.
.

.
.
.
[
Shibuya CYCLONE (click to open)
]
Shibuya
.
.
.
We had checked out the venue before and then came back again after purikura.
.
.
.
We found the lineup of the bands at the entrance
.
.
.
.
.
.
.
.
.
.
We had to go several levels downstairs and it was kind of creepy X'D
.
.
.
.
.
At the end was the venue.
Looks nicer already!
The guys at the table were a mixture of staff and band members I think.
They were a bit confused of us showing up since it was still too early.
If you go to this venue:
On the right side you'll find lockers for...either ¥200 or ¥300.
.
.
.
.
.
We went to StarBucks for a bit longer before parting with Shannon (;o;)/
and going for the show.
.

.
.
.
[
Getting in (click to open)
]
Back at the venue first of all I met some Japanese friends at the entrance to the venue (and the supermarket on the right side to it). They told us that just minutes ago Kansei and 5° had been in the shop to buy stuff *lol* I guessed that they had been hungry! :P
A bit later I spotted a fade staff member coming from a side entrance. I went over to ask him for his name. I guess everybody knows that I've got quite some interest in the staff members, I just could rip my head off for having a terrible memory for names T~T. So I was an idiot again and didn't write it down. Was it Yukiya? (>_<') Arg, screw this! Next time someone kick me if I don't write it down asap!
Downstairs we first of all got rid of our stuff in the lockers. I highly recommend to either have pockets or a tiny little wallet on cord that you can carry around without feeling bothered. Wearing boots can serve as pocket, too btw. Because you pay entrance money and then ¥500 drinking fee. You get brochures (which you can refuse, park somewhere or eventually slide it through the doors of your locker, because re-opening it means losing the money! ) and you get a drink ticket for one drink of your choice back. And this ticket I often carry in my boots *lol*
We lined up on the stairway to wait for the doors to open. There was no line up by number, because I think we all had booked over fades HP (and it was just fade fans there at the time *lol*), hence, there were no numbers. Usually the people with numbered tickets go first, but nobody cared to check numbers or to line people up that way.
As we were waiting, suddenly a person came downstairs. First I didn't recognize him, but when I realized that the man I'd somehow recognize and yet not recognize was manager Miyagawa-san it struck me like from a thunderbolt and I must have been staring at him X'D. From the last time I saw him he definitely changed. Before with his brown hair and the stylish black clothes, he looked like a very attractive young fade staff member. Now he has blonde hair, looks even younger (almost too young) and looks like a rockstar X'D It was mentioned in the last UStream
(here for an entry with video and summary)
of fade if it wasn't bad for the manager to look like an artist himself *lol* I now understood while he was mentioned that way. He leaves quite the impression when passing by. (*_*)b So Bernie and me were fangirling over him while trying to suppress it at the same time *lol* A moment later manager Ricky-san brought Rui and Noriyuki past us upstairs and we said hi. Previously Bernie had told me that Noriyuki had tweeted we might see him the last time with long hair (and we now know he was for real). So I called out to him asking him to at least open his hair on stage a last time for us *lol* I was surprised I actually did, because Bernie and me had previously joked about asking him like the prince asking Rapunzel in the fairytale to let her hair down so that he can climb up the tower. The image alone was so funny. We laughed sooo much together :'D
When you book over HP, you go to the reception saying your name. And for the first time I said my name and the staff couldn't find me on the list. BUT, they simply wrote me on it *lol* Maybe I was on the list but they couldn't find my name in the hassle. I had written it in Romaji, but there were just Kanji on the list *lol* so maybe they converted the name the wrong way! X'D
.
.
.
.
.
.
GET A 3D VIEW ON THE INSIDE OF THE VENUE!!!!
(click me)
Simply grab the picture with your mouse courser and pull the picture to one side to move the camera
.
.
.
A typical small (band) towel should be with you, if you aim for first row. In Japan you DON'T stand in the first row the whole time just because your band is last. You put a towel on the barricade, occupying a space and then step back to let the fans of the other bands go first. Sometimes fans will put their towels over yours, if they make a reservation for a band coming before yours! And something you might want to do: Put your towel upside down!! Some musicians are careless enough to step on the barricade ALTHOUGH there's people's stuff on it! So don't put your white fade Parka either ;)

BTW: you can stay in the first row if you go back and no fans come to the front. Japanese fans can be very shy. But make sure to keep an eye on the fans. If they line up leaving big gaps in between, then you might want to fall back, because they most likely have choreography and will dance. ;D

So Bernie and me first made reservations in the first row. There wasn't too much space left, so I placed my towel on a free spot and would way way later realize, that I was right in front of Jon again. Ooops. Once down, we headed to the merchandise table. One of the super nice fade staff ladies was there. She had us try the fade watches (because basically I had made up my mind to buy one) and we discussed it. As expected the watches are quite big and heavy, but against my expectation size-wise there was no problem to close them. Usually my wrists end up being too thin and I have to make additional holes through the strap. We discussed other fade merchandise and she complimented my body painting (I think I'm slowly getting used to it already).
.
.
BERNIE:

Said hi to some Japanese fans I hadn't seen in a while, met new ones, and put my towel on the bar thingy, planning to stand in front of Kansei, as usual. (Sometimes fans also reserve spaces for their friends so you have to take note as well, and it depends really. Some fans like to stay near their spots at the front to make sure they get them. But if you reserved a spot you'll ensure a space at the front, even if not first row, but pretty close to the front. There are pros and cons of being in first row or further back but I'll touch on them later in fade's set). It might help to bring a different towel (eg. bring the pink TEN towel instead of the black Sky's the Limit one cause more people will have the latter) so that you can tell which one is yours. Cause nearly everyone was using the Sky's the Limit towel! Couldn't tell which one belonged to who lol.

P.S. I don't remember much about the other bands so I can't be as detailed as Ka-chan for most if not…all of them, oops. (You will notice my comments are pretty much non existent - I'm sorry!!)

P.P.S. POCKETS ARE VERY VERY IMPORTANT. I didn't have any pockets in my skirt and silly me forgot to get my drink coupon and other stuff out the first time…sigh. [out of the locker, she means]
.
[
The Bands (click to open)
]
The bands
.
.
.
ORBit
<<homepage>>
.
.
.
.
.
.
This night we had a nice setup of music. This band was a very nice warm up. I liked their music so I'd fill up the second row with Bernie and rock along and take the chance to dance a bit. I felt stiff and out of shape from days of bad sleep and couldn't wait to loosen up a bit again *loooool* Now I wonder if it was just that me, but the singer would glance at me often enough to embarrass me X'D. Basically there was something fun going on that night. I got the weird impression that the Japanese singers of several bands would also spot me and give me quick looks when they were singing English. It was as if they were concerned o confirm if I (the foreigner) wasn't making weird faces as reaction to their English skill. I really don't know if I'm just imagining things there, but it was funny. I should have asked the other blonde foreign girl I had spotted a few times during the show.

I think it was when they were finished that Emiko (Japanese ST leader) joined us. Bernie and me would head to our lockers (to get me medicine against my starting headache) and on the way during that night we got handed to demo CDs and flyers from the bands. Each time we'd head out and go through the control (you get a stamp on your hand in this venue) in order to reach the locker and stuff the things through the gap betwen door and locker wall *lol* The guys at the entrance would know out faces after the second passing and I wonder what they were thinking about the two girls who where going in and out after almost each band *loooooool*
.
.
BERNIE :

This band left a good impression on me! I kept stealing glances at the drummer because I thought his hairstyle was really cool. I was really happy when they gave us CDs with their song "at first"! I listened to it for the first time about a week ago and kind of fell in love. They have a different feel from fade. For them it's more like you want to bounce and wave your hands around instead of jump and rock out. I tweeted to them thanks for the CD and that it was awesome, and…they replied and followed me!?!! I do want to listen to more of their stuff but it's not available online and they only have lives in Tokyo and Yokohama currently.

Oh yes, if I'm not wrong I casually mentioned to Ka-chan that a guitarist had thrown his pick but it fell somewhere and couldn't be found. But then later on before fade's set she found the pick and gave it to me!! :D It's really pretty! I think it was the guitarist of ORBit's pick...I remember him quite distinctly cause he was always talking to the crowd and stuff.

CD we got from them!! I've got the track on my iPod and listen to it quite often ahaha.
.
.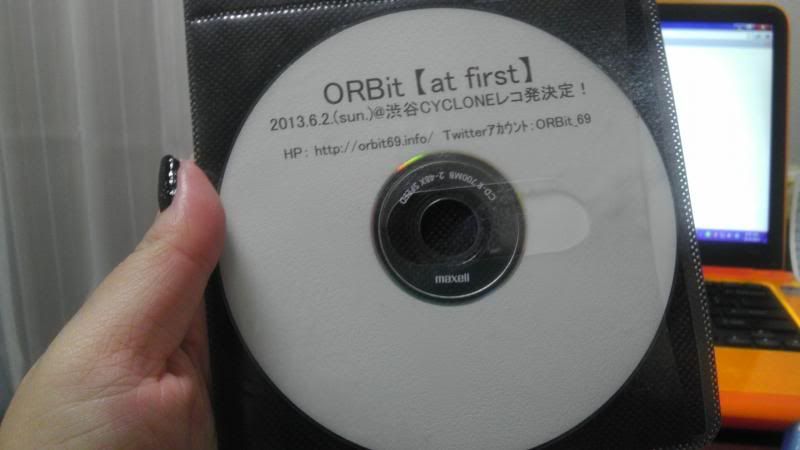 .
.
.
.
Lay Another Flight
<<homepage>>
.
.
.
.
.

.
.
.
These guys were really good. They had a mix of rock and rap and it really worked out well. I'd still escape to the side though, because they also did death growls and screaming and the boxes situated at the side of the stage would just hit me too hard. I already don't like dealing with very forceful bass play, because the sound goes right through my chest and it feels like it's disturbing my heartbeat *lol* That said generally. I guess if you read former report, you'll know that I'm not typical concert going person and very picky about music :P
Anyways, they this band was good!

I think it was after this band when a row of Miyagawa-incidents occurred *lol* Aside of that he was randomly coming in and leaving again, I had Bernie tell me of a slightly fun encounter......
.
.
BERNIE:

So after Miyagawa-san left we kinda dropped back to our normal level of "tension" and calmed down. We hung around kinda doing nothing but then I had to go to the toilet. So I walked over to the unisex toilets and because someone was inside I waited for my turn. AND THEN LO AND BEHOLD MIYAGAWA-SAN OPENS THE DOOR AND WALKS OUT???? I kind of just stare for a while before regaining my senses and going in. Then when I return to where Ka-chan and Emiko are, I told them what happened and it was really funny. They were like "GO POST IT ONLINE" and stuff and I was really embarrassed cause I hadn't planned anything at all but saying what happened might make me sound like a stalker and I'm not!! :"( But anyway, it really was quite shocking for him to just waltz out of the cubicle right in front of me and like, how do I say this: HE GOT SWAG. Ok. There.

Bernie and me couldn't help but search for Emiko and show Miyagawa-san in his newest look to her. She was very amused about how passionate we were about him *lol* But hey, nothing is wrong about enjoying a good view at times 0:P And while we were talking a bit, I had this super embarrassing mistake happen. (x/////X)

I wanted to tell Emiko that I was planning to go to the Island of Miyajima the next night. Hell knows why, but I said: "And tomorrow night I'm going to Miyagawa" Bernie and Emiko burst out in laughter and I covered my mouth in shock to not say another word. (>/////<) That very moment Miyagawa-san was heading by and towards the door and I hope he didn't hear any of it! However: since this moment, I keep mixing up the names of manager and island and I wonder how long until I get back to normal *loooool*
.
.
.
.
空創ワルツ
(=kuusouwaltz)
<<homepage>>
.
.
.
.
.

.
.
.
I really enjoyed the music of this band. They played songs that had a good flow to them and something psychedelic. The atmosphere was different to the party like one from the bands before. The bassist would pull pretty crazy faces though. *lol* He was quite...characteristic. At some point he started talking into my direction (I had pulled along friends to fill up the empty first row) and I was a bit confused cause he looked serious and it was like he was complaining about too little movement of the crowd (my Japanese is eh...basic so I can never be sure) But his features would suddenly turn friendly and he'd say in Japanese, "not you, behind you!" and then kept talking with the guy behind me for a bit. I heard the guy behind me answer "hmm....well try a bit harder" in a sense of 'then maybe you'll manage to get me moving'.

After this band I sat down on the bench next to some of my Japanese friends. One of them, Miyuki-chan, came to greet me. She seemed tired and there was no more space, so I offered her my lap. Most of the Japanese girls I know are very kind but shy, especially with body contact. Not her. She'd take my offer and sit down on my lap for a bit while I could loan on der shoulder and relax *lol* A really really sweet friend. Miyuki-chan and Miho-chan took their time to look at my painted hands and have me explain the topic. One of them took a picture of my hand under blacklight. And I for the first time realized that Bernie's orange top was glowing the same way my left hand did *lol*
.
.
BERNIE:

Yes the bassist was umm, scary....well imo. He makes these crazy wild faces, which Jon does too but I felt there was a difference? But strangely enough it kept you looking at him...like it was some drawing factor to keep looking. It did make them very memorable. He had really long hair that was tied up messily like Nori's and he played barefoot!!

P.S: which reminded me just now, that it was far from the first ime I saw Japanese artists performing on stage barefoot! Thanks Bernie.
.
.
.
.
St.Clair
<<homepage>>
.
.
.
.
.

.
.
.
For a whole long while I stayed seated when this band played. I'm usually really not that rude, but I was quite tired already from the previous bands and for some reason the time till fade's turn seemed longer than ever before. But I kept swaying to the rhythm and clapping my hands. They made good music. Very typically American music, at least to my ears *lol* So very good while not being particularly special. They had quite a good energy though.
.
.
.
.
fade
<<homepage>>
.
.
.
.
.
.
ERROR!
This is NOT gonna be in this part of the report >:P
This is going to be in PART 2 with Bernie as main author!
BWAHAHAHAHAHA YOU SHALL HAVE TO WAIT FOR IT.
.
.
.
.
unfect
<<homepage>>
.
.
.
.
.
.
.
.
It had taken me a while to figure out what was going on, but towards the end I had understood it. It happens that the event Bernie and me went to, was the final event for this band. They were disbanding. And it seemed to me like they weren't stopping out of free will. They had a nice crowd of male, rapper-style fans who would perform dance moves along with the band playing. And the singer asked into the crowd who liked their music and then went "See? I said so! Unfect is wanted by people". This band had various sing-alongs, and hells, they weren't easy ones *loool* I have a good memory for music but I had to concentrate already to get the right thing just after listening once. There was a lot of passion in the air. I was at the very back, with the crazy long-haired bassist of 空創ワルツ in my back *lol* The venue was full and people would go along almost to the very back. I was tired and would lean against the wall at times, but I would clap my hands and repeat previously shown movements as much as I could out of respect towards their feeling. Somehow I was deep in thoughts. This band was at their best that night. Naturally, the most beautiful moment comes before the end. The band would live up a last time and give it all since they had nothing to lose. It was beautiful to watch and yet I was wondering why it needed and end for a band to let loose like that. For an artist in general. I mean I know what it feels like to be on stage in the beginning, middle and end of a production. The last show is always the best and the hardest to bear.

I thought about how I'd love to see fade like this. They are already amazingly outgoing and have blasts of energy coming from them. How much could they shine before the end? Longing to see them in that very moment, I yet knew I would most likely never see it and would give that moment if it meant for them to not come to an end before me. Yet, if it was that way, I was wondering if I'd still be there for them that day and if I'd make it once through half of the world again to see them.
.
.
BERNIE:

so like they're really very different from fade but they have a great level of energy too. And their fans are really different. It's like they suddenly started a running dance thing in the center of the floor (on cue, though, I think) and the fans knew the steps to dance along and all. It was so cool to watch! I stood at the back because I was tired and wanted to take it easy after fade. They talked about their disbanding and said thank you very very much to all the bands who came to play that night, and for all the people who came, and that if we saw any of the members to say hi and stuff (I think). They kept repeating over and over how they wanted everyone to just have lots and lots of fun, so they could go out with a BANG. And I'm very, very sure they did. The night was beyond awesome.
.
[
After the Show (click to open)
]
After the show
.
.
ERROR!
This is NOT to be found in this part of the report >:P
It's also going to be in PART 2 with Bernie as main author!
I know this report didn't have an happy end.
It's an end full of thoughts. yet, this end is just a stop, because part two will be the main core of this.
It will be speaking of all the joy that fade and fadefamily bring
I hope you can look forward to it
Current Mood: artistic
Current Music: "Always and Forever" by Fade