fade at SAKAE SP-RING 2013
Nagoya X-HALL
8 June 2013


PART 1 ~ Before The Show:

HANNAH:

It's funny how when you even have plenty of time to sleep you don't… or maybe that's just me. Anyway my trip this time started with just about 3 hours of sleep the night before. So once I woke up and was dressed it was off to the airport because I couldn't stand to wait in my apartment. I made it there….2.5 hours early so yet again I was left to sit and twitch in anticipation. Needless to say I had lost my poor mind by the time it was almost time for boarding.






Nonetheless the flight left on time and a surprisingly SHORT 50 minutes later we landed… seriously the shortest flight ever but god I am glad it was that short because I was a bundle of nerves. Ka and Bernie were already at the venue(after getting news that we had to exchange tickets for a pass of sorts, and having to run around Nagoya… poor ladies ;;A;;) But anyway I landed at Centrair and hightailed it through security and customs to the train.
Note: Seriously when I went through Korean immigration they were very proper and serious with me.

"Will you return to Korea?"
well yes I will.
"When will you return?"
tomorrow.
*wide-eyed shock as he hands back my passport*

Apparently a weekend trip is unheard of *lol* And then Japanese customs (such sweet people at this airport, seriously, I like it. Nagoya reminds me of Busan) anyway they kind of asked the same sort of questions.

"How long is your stay in Japan?"
I leave tomorrow.
"So you will return to America?"
NO. I will return to Korea.
"EH!? You… live in Korea?"
I'm a teacher.
"OH~ Please enjoy your stay"

Got to the train station and walked up to the ticket window (looking positively like a scared kitten I'm sure) Let me tell you people really respond to the scared, lost foreigner XD They were super helpful and explained the way to do things to me and then sent me to wait for the train. Funny story, I saw a couple musicians on the train with me. I don't know if they got off with me, cause I was too busy making sure I was going the right way, but that was cool~ Made it to my second train station… now this was a little more confusing… so there I stood like staring at this HUGE map and not understanding a thing when a station staff started to walk by. And as he did I turned and he caught my look (and believe me I LOOKED PATHETICALLY CONFUSED) and the poor man… bless him really, such a sweet heart. He carefully explained how to purchase the ticket, helped me to do it. Then practically led me by hand over to the gate, sent me through and then told me which stairs to take. I guess guys really can't resist a damsel in distress o__o

But I made it!

I traveled the trains all by myself this time(and omg it was nerve wracking LOL)
Now about Nagoya…

After I got off at my station and went out my exit (thank you sooooo much google maps for providing zoom *lol* ) I basically just had to walk left around the corner, then cross the road to this HUMONGOUS like shopping street. It was really cool, and we sort of traversed it a bit after the live, but on the way I was pretty… focused to say the least. Saw a few guys that were obviously artists (they've a pretty distinctive air about them) as I was walking but again I was pretty focused on just finding the venue.

I made one mistake and crossed the road in my worry and haste. Because I was slightly confused, but also cause someone was trying to call my attention as I got to the corner and just no. Anyway I should have just turned right at the corner instead of crossing the road but meh little things. So I realized my mistake as I walked just like a few feet down the road and looked up to see the big X-hall sign. At that point, Ka and Bernie were both waiting outside for me. They spotted me first and the result… well quite a few people stared at our reactions. Now instead of being a properly smart person I decided to be an utter fool. You see there was a man pushing a box (what looked to be sound equipment) across the road right at that moment. So I decided (after a very quick look) to dart across at the same time.

Hehe… Reunion of Fade!Family Yay!!

So like I sort of tackled Ka in a hug when I got across (she was closest to me and she was also scolding me a bit when I crossed the road so recklessly… sorry Mama!Kat <3 ) After that though I naturally gave Bernie just as much love and they proceeded to tell me about some of the adventures and sightings I had missed already. Funny stuff I will let them throw in~ Anyway the three of us just sort of flailed on the sidewalk for a few minutes (causing many people to stare LOL) before going up into the venue.

BERNIE / KA-CHAN:
On what had happened before Hannah arrived.....


So my day was just as hectic as Hannah's and I'd got only 2 hours sleep the night before. I left the house a lot later than I should have and umm, ended up missing my bus to Nagoya. This meant I had to grab a Shinkansen ride over, which turned out to be a blessing in disguise. I arrived in Nagoya 1 hour earlier than I would have by bus, and Miyuki-san, bless her, was frantically trying to tell Kat and I that we'd need to get our tickets exchanged for a pass. She even quickly asked Shannon to translate into English, and thank goodness for that information or we would've not known!

Met Kat at the hostel (got a little lost on the way).

When Bernie arrived I had really JUST finished fixing my body paint. I had arrived the day before and sat in the hallways while painting to be able to see Bernie as soon as she'd set foot into the hostel. Here the body painting btw.






It was so hot that day that I decided to go practically naked *lol* I didn't wear a top under my cut remade shirt (and as always HERE a link to the re-make tutorial)

We headed for X-HALL to get directions to the mall, LACHIC, where pass exchange was taking place. Made our way over there and was greeted with a GIGANTIC queue. Yoko called us over to join her in the line, she was a little bit ahead of us, and we saw the amazing present for Jon she'd brought all the way from Osaka for him! While waiting we spotted Ricky across the road, and called out "Ricky-san, Ricky-san!!" he was quite surprised but turned around to look at us and wave. As the queue progressed, there were parts without shade so we used the big board to shade ourselves and it was really good! Kat and Yoko held it up with me in the middle and shorter than them so I couldn't really do much. Then as we turned the corner and moved up, I ended up slipping away from under the board so I think Kat went "Bernie come back, you're under the sun!" then all three of us proceeded to echo "UNDER THE SUN!!" and hum a little bit of the song before bursting into laughter.

Here btw. a picture of Yoko's amazing art: Jon who is made out of many itty bitty tiny little fan photos. It also had a message on the back :D








Anyway, we change the passes quite fast, meet Miyuki-san and the four of us hop into a taxi to the venue. It wasn't far so we each paid about 130yen, then when we entered the hall was a lot smaller than I imagined…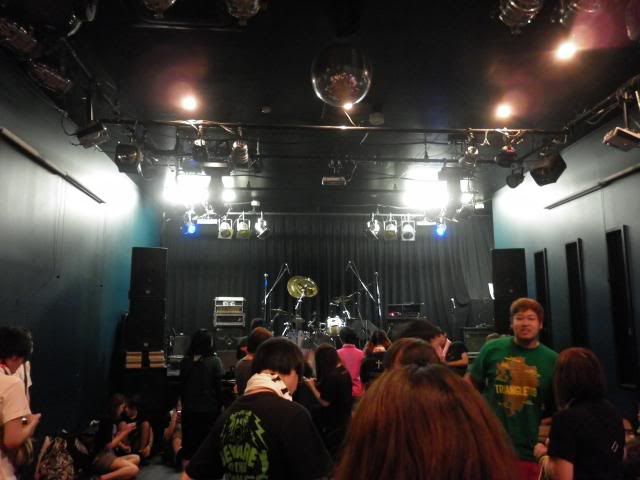 Hung around with Japanese fans, Kat helped draw on "Happy Birthday" and "fade" for Yoko, I helped her write "Jon" on her face, and we just hung around to watch the bands.

Yoko also wanted her back decorated to I drew fade on her while looking at my own arm since I had included the fade "F" into the key of my body art.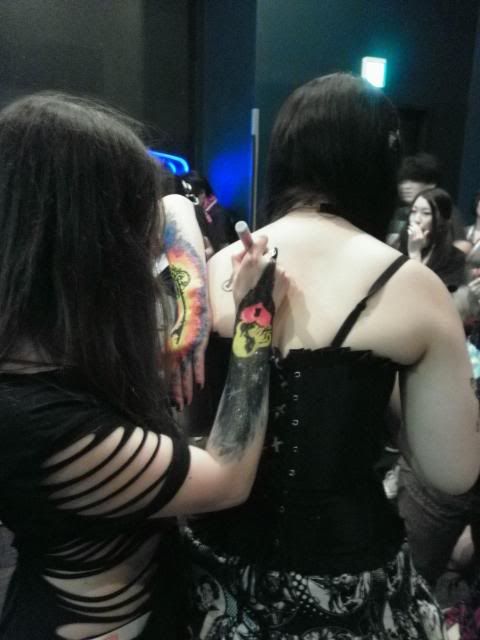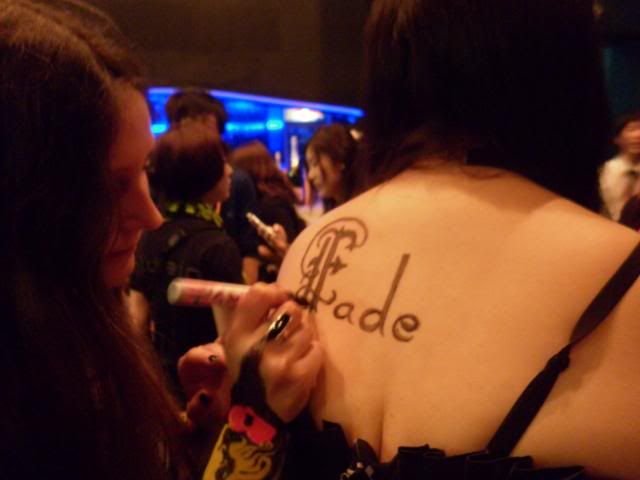 We also spent some time together trying to decipher the message Jon had written on Yoko's corset the other day at the birthday event *loooool*




Can you read it? XD It says......."Yoko. Thank You for the Lovely Birthday Message!! [Jon's sign]"
BTW. our first massive fangirl fail of the day. *loooooool* We were later to find out that exactly THE SAME FAIL had happened to Hannah around the same time at her airport. What happened? We were in the hall and no band was on yet. And Bernie checks her twitter, comes to me and the Japanese girls and shows us Jon's newes update and we LITERALLY SQUEE as the rest of the audience turns around at us wondering what happened X'D. What did we see? THIS!
The first band, BUZZ THE BEARS was amazing!!! People were dancing, going wild and even crowd surfing!! At the end the vocalist came down off the stage with his mic and performed right there on the floor!! A few female fans were crying. It got REALLY REALLY hot there and we were sweating a lot but it was so fun!!!

And then they all left. The next few bands had really poor turnouts so I was quite worried (think we all were).


I was starting to get a headache. I had come to Nagoya after being on travel to Miyajima and the fade live in Osaka (HERE FOR THE REPORT) It was starting to get to me. Our hostel was just 10 minutes' walk away, so I rushed through the heat back to it to get some medicine. Just walking into the hostel got me into the situation to be asked by a staff member if he could shoot pictures of my body art X'D. They'd later put it on their Facebook. Simply click on the picture to get to their FB, it will also let you know the hotel where we stayed in case you'd want a cheap nice place for your next fade show in Nagoya ;).



After this I felt like the ST work for the day was done *looool*. Heading back suddenly I spotted someone I knew. Noriyuki. A long straight road with noone there but us. And suddenly he'd vanish around the corner of the house. As I was walking closer I cracked up by myself, planning to look around the corner and if he was still there, to tell him that there's no need to hide from me since I'd not eat him. X'D Just as I was approaching the corner he came around it again though. So I waved at him and told him: "Hey, no need to hide I promise I won't eat you" he laughed and we both kept walking our ways. I had 0 intentions to bother him on his stroll through the city on such a sunny day. On a side note, as I walked pass the corner and just before he went back to walking down the main road I saw him making very typical movements. He had been turning off a cigarette. I left wondering if he had not seen me and wet around the corner to smoke or if he had moved around the corner to smoke BECAUSE he had seen me. X'D Funny little side story!


We got lunch after READ ALOUD's set, ate, found something cute in the Family Mart and plotted stuff, before going back in. But in the middle of the third band, Kat and I couldn't take it anymore and we went outside to get fresh air. We had a nice chat about lots of different, random things outside the venue at the right side of the stairs. And then Kansei walked up the stairs on the opposite side, spotted us and waved. I was caught mid-sentence and got a bit shocked cause…!!! We moved downstairs to the bigger staircase area to wait around for Hannah and continued chatting.
Then at some point I went back to the Family Mart to buy the said cute something we found earlier for Kansei then come back and hang around with Kat some more. Then THE SILVER VAN pulled up with Miyagawa-san and Godo up front, and with Nori, Ricky and other staff inside too. They made a U-Turn and pulled up to the curb and started to get their equipment out. Then Kansei bound back down to come help so I went up and passed him said cute thing which was a special edition can of Wonda coffee that had an AKB member on it. Of course we got him Mayuyu and at first he tried to wave me away to say that he doesn't have time but I stuck out the can, he spotted Mayuyu and grinned, then took it with a "Thanks" and slid it into his back pocket.

(The cans look like this: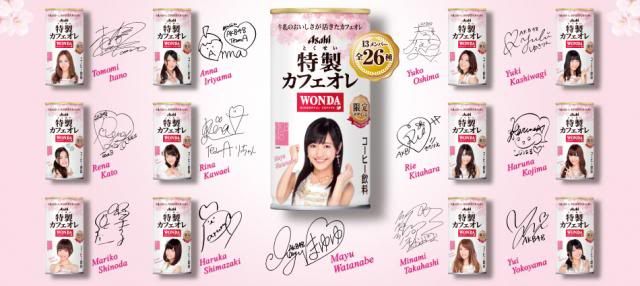 The girl in the center on the biggest can is Mayuyu, and each AKB girl has a 2 different designs. The can to Kansei was this design. It also has their signatures on it so I'm sure it's a must have for all AKB fans lol!)

We'd stand by the side watching them get their equipment into the venue via the lift. At the end when all the equipment went up, Nori took the stairs up. Sometime later Jon and rui arrived with more stuff and they'd take the lift up. Anyway, we'd be waiting around for Hannah so each of us took one side of the road to look at, and I was checking my twitter in between when I suddenly felt this 'presence' walking over and lo and behold MIYAGAWA SWAG appears in front of me and he just sauntered past with his bag, shades and chains jangling and I was like like "Woah" for a second.


Both of us, Bernie and me, would turn around towards Miyagawa-san as he walked by and once he was gone we started at each other and were discussing for a bit how freaking charismatic fade's second manager is. *lol* It was really impressing that we both sensed his presence without looking in first place. I had been looking at the other direction of the road, too. I guess we're developing a strong Miyagawa-syndrome X'D I'll really really miss him just as much as the band when I go back to Germany!


Then we finally spotted Hannah and waved her over and she literally just dashed across the road to us and glomped Kat on sight then I too got a glomp (YAY!) before we excitedly told her what happened and made our way back up to X-Hall.
HANNAH/BERNIE/KA-CHAN:


X-hall was the venue (as I said once I think) and like… it was not what I expected. But more on that in just a moment. I got to meet more of the Japanese Fade!Family and just seriously some of the sweetest, most awesome ladies you will ever meet!! <3 So we sort of sat, and talked a little bit outside the hall in a small area beside the merch table(more later to tell) and Ka told me that we all had spots reserved right at the front, with me in front of Nori and her in front of Godo, and Bernie naturally at Kansei's end. And well when she said RIGHT IN FRONT… she meant it literally x__X

Oh oh oh~~ hehehe before I forget ka was fangirl mode over YOU-KNOW-WHO hard Saturday… though I don't blame her at all because he is quite handsome. And he was just very GOOD looking that day. Also we came to the realization later that he is sort of the type of person that even without hearing him you feel his presence before you see him. It's hard to explain but just like, he has a very distinctive feel.

We snuck inside the venue at the tail end of the previous band to set my bags with all their things, and also to move forward once the other band had fully finished. Ka tried to get me to loosen up a bit but my nerves were SLIGHTLY frazzled. So while she poked me and teased me a bit I tried to loosen up~ But so the other band ended and we all sort of snuck forward. And smack! Stage… like literally, stage… no bar set up or any of that… we were quite literally almost on stage >///< so yes… LITERALLY IN FRONT *coughs* the VIEWS we saw o////o ehem…
Anywho~~ So sound check for the guys was in one word… HECTIC

Seriously there was no room to move on this stage and poor Miyagawa-san… I honestly felt like the man needed a gentle pat on the back or hug at some points. Bernie came over to flail over a certain thing to Kat and I (what she was flailing over will be mentioned later hehehe…) and like so the three of us were clustered together when suddenly face full of Godo. Pleasant little surprise as he was setting up a powerstrip… Ka and Bernie tried to help… I was too shy to offer *oops sorry* but he was again really cute to watch as he interacted with the pair of them, and pretty much just set it up as he pleased… but really… WAAAY too many plug in for one strip… sooo dangerous >.> but yes cute Godo moment number one (there were quite a few to come).

Anyway set up set up set up. Poor Rui was pretty much stuck behind the drums once he was there. And it was such a tiny set up none of the guys had anywhere to go either. But it was really great to see Rui laugh and smile before the show started XD he's got a great laugh. Sorry if that was random just a little observation out of miss observations here *lol* I like to watch interactions and such~ Nori had some troubles with his bass. Seems the wireless cable decided to short or something so they ended up switching him to an old fashioned tether right into the amp… DARN that means he has to stay right in front of me and Ka even more… *happy grinning* ehem…. Where was I? besides being insanely happy that Mr. Bassist was stuck in one area…. Right focus Hannah… so yes unfortunately there were quite a few little complications and problems that occurred… a few funnier ones will be mentioned later.

Poor things with the complications they were a few minutes past the start time but finally lights down and the show began. Now I was thinking, this is my second show, I will be a little bit more able to form coherent thoughts once its over… Nope sorry can't happen. Ka pointed out *lol* I tend to be a very emotional writer… hence why this will be YET AGAIN another emotion-riddle jumbled up mess… I apologize in advance. Please count on Ka and Bernie for a little bit more sanity.
Ahahhaa you'll find out my spazz over kansei a little later on in the report (when do I ever NOT spazz about kansei?) I don't have much to say that Hannah hasn't already said so….

So soundcheck was a bit…tough, like Hannah mentioned there was no space so the Godo/Nori side was really cramped while the Kansei side was a lot more spacious. Godo and Kansei seem to be having a little "who has a bigger effector board" battle with Kansei still winning by a fair bit. There were not enough microphones so Kansei's was given to Nori instead and that caused Kansei to have a LOT more space on his side. There were 6 amps I think, 2 on the left and right of the stage, and two in the middle in front of Jon. THERE WAS NO BARRIER in this live house so literally it's the closest I've EVER been to the guys at a live. This also means quite a few…interesting happenings to come later.
While most things were already mentioned, I have to add my personal sweet 5° moment No.2. He was really stuck in a corner with Nori right next to him. At some point fade's first manager Ricky-san came over to him patting 5°'s back and talking into his ear in a really reassuring way. 5° smiled and nodded. I bet he was asked if he was OK there. No matter how often I see it: I constantly keep failing AND flailing over the amazingly caring atmosphere between band members and managers. You don't see it much in contact of band and staff, but when you watch the guys and the managers together it just makes your heart go open wide. It's just small interactions, but they'll give you an impression on how the working atmosphere for fade might be in the studio. You can feel how they are family, so I can just recommend to keep your eyes open ;)