Was a blast! I went with a friend from the dorm who also likes fade. We met her friends, and reached the University at about 1pm.
This was my get up for the day: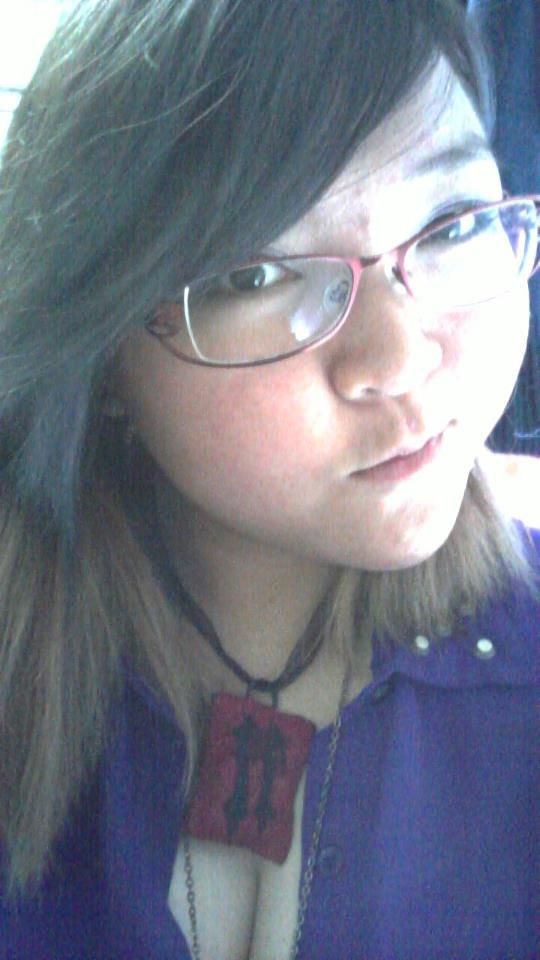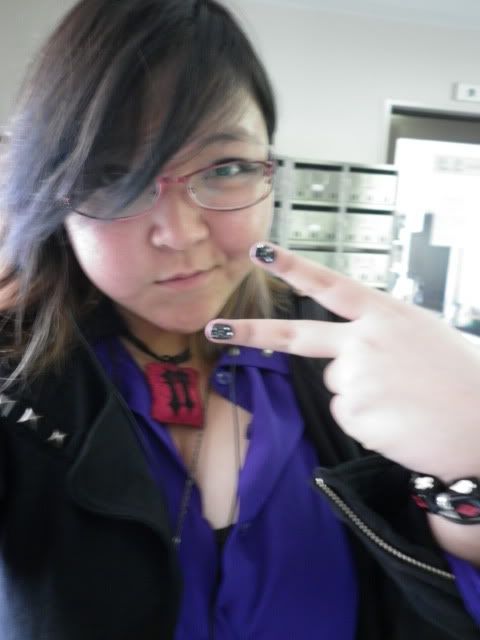 I used hair chalk on my fringe to get the blue ombre effect, and wore purple in hopes on standing out. Also wore the fade family felt pendant I made. Lots of accessories on my arms (which isn't the best idea, you'll find out why) and I even bothered to apply eye makeup (I usually just leave home bare-faced). Thank goodness I decided not to wear cat ears because they would have disappeared....

It was pretty easy to get there, from Hankyu Umeda we had to change to the JR line and take to Tennoji station before changing to another line, headed for the airport. The station nearest to the campus is JR Sugimotomachi, and the school is just right next to it! The place where the school festival was being held was inside the campus and about another 5 to 7 minute walk in.

This was the entrance:

There were lots of stalls all over selling food, drinks and even a flea market which I didn't manage to go to, sadly. Since the rest of the group didn't want to queue, we wandered around, buying food and taking photos. The Japanese students were all really enthusiastic about trying to sell stuff, and some were even dressed up in cosplay! There was Stitch, Buzz Lightyear, Woody, Jessie, Pikachu, Chopper (One Piece), No Face (Spirited Away) among others! The food was also reasonably priced, like 200yen for Yakisoba, 150yen for Tapioca Pearl drinks, 250yen for Hiroshima-yaki (Hiroshima style Okonomiyaki). And the prices were slashed in half in the evening, like 100yen for a cup of karaage which was so so so good.
I'd been following the tweets of a Japanese friend who'd arrived early to queue and she said that Jon and Rui had been wandering around earlier! When I met her later, she said that everyone but Noriyuki had been wandering around the festival at some point! Which leads me to a chance encounter I made with....the elusive Godo!!

The group of us were just walking along and some of us were eating, when someone familiar walked past. I turned, stared and confirmed my suspicions before grabbing the arm of my friend and going "Godo, it's Godo!", so we rushed up and said hello. He was a bit taken aback at first, then we said we'd come to see fade perform. He asked us where we're from, so I said Singapore, and explained that I was studying in university here. My friend told him where our dorm was and then we asked if it was okay to take a photo with him. And he said yes!

Said photo (cropped):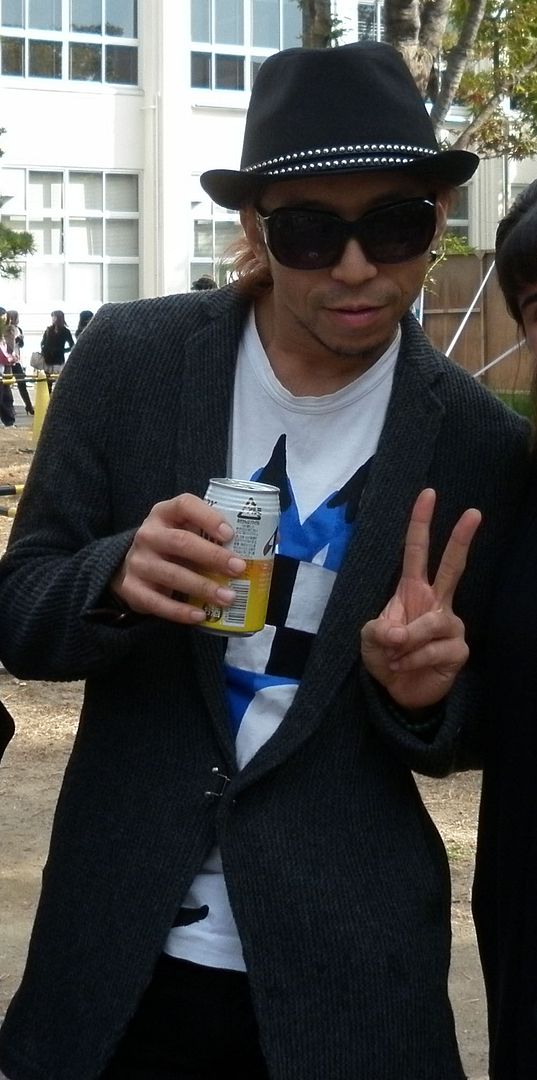 The funniest part was, when I was reviewing my pictures taken (after uploading them to facebook) for the third time, I noticed someone in an earlier photo that I had taken with No Face. It was none other than Godo, photobombing!!!! (Can you spot him?)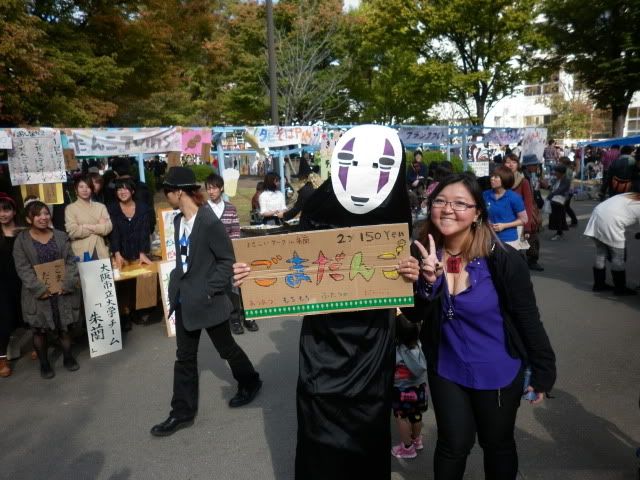 Anyway, when we wandered over to the part where the queue to enter was, it was obvious how long it had become and if we didn't join it quick we would never get a good standing place. So join the queue we did! Most of the people were there for MIYAVI though there were some fade fans decked out in fade merch or familiar faces I recognized. At 3:05pm, they finally let us into the gym, in batches (which was a good idea) so that there wouldn't be any rushing or pushing.

This was the venue and the view from where I was standing (6th, 7th row middle):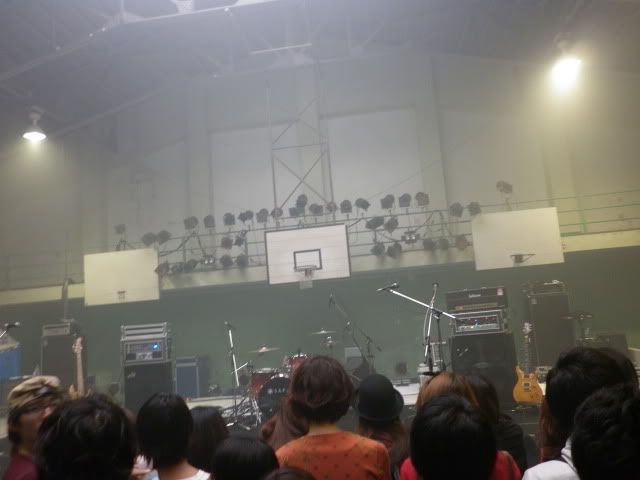 AIR SWELL was up first, and their set was pretty cool. The people in the front rows and the sides had their arms raised and were jumping along. They're only a three piece band but the energy from them was awesome! It really got us pumped up for the rest of the evening.

fade was next and some girls left so we managed to move a bit to the front. Then when fade came on I started shouting my lungs out cause I was so happy. The girl in front of me offered to change places and I thanked her cause it meant I was one row closer to the guys! If I'm not wrong either Kansei or Godo or Godo and Noriyuki came out first, then Rui. The lights were flashing and they started playing a few notes before Jon came out in a blazer (either black or navy with white piping/detail) with a white shirt with grey union jack print on. (I keep typing Jackt instead of Jack, I wonder why....) Godo was in black tank top, black fedora and shades and his arms were painted.

And right from the start, the moshing began. It was like the music starting and Jon shouting that got the front rows all pumped up and jumping, and then... the nightmare also began. The guys were CRAZY. They would PUSH or jump against the people in front of them and squash us all together, or jump to one side or another so there were times when we were all falling to one side. But this also meant that we got squished closer to the front.

Setlist from fade_tokyo facebook:

01. Born Ready
02. One Reason
03. Break Away
04. From the Inside Out
05. From the Heart
06. REIMEI〜黎明〜
07. In the end
08. Ever Free
09. So Far Gone
10. Ten
11. Beautiful
12. Close to You (Jp)
13. コズミカリズム

Jon threw off his blazer pretty early on, then later during In The End he tore off his shirt, much to the delight of the girls. I'm pretty sure fade got lots of new fans that day cause the girls all around me kept cooing that Jon was "mecha kakkoii" (really handsome) and shouted "ikemen"!!! And friends who are MIYAVI fans had watched fade and liked what they saw!

At one point, someone at the front threw a thong to Jon. It was white with black stripes or some print on it, and he made a :O then ;D then ;P face, winked and twirled it around on his finger. Then he walked somewhere with it and, I presume, stuffed it somewhere for safe keeping. Jon also switched sides and worked the crowded, shouting for us to put our hands in the air or to clap, or sing with them. He spoke mainly in Japanese though using some English (to awkward silences from the crowd) but he'd always say things in Japanese after. There was body surfing as well, which was pretty crazy cause you'd get thrown off balance while moshing as someone rested against your head (or their limbs hit you) then you smacked them forward.

The crowd was extremely responsive, shouting back when Jon shouted, jumping, singing along.... This time there was a lot of singing along. So Far Gone, Beautiful and Close To You, and Jon, when closing with Cosmicalism said we could sing along too.

During the breaks in between songs, there wasn't much shouting of the guy's names, though there was some (I think I may have contributed to that quite a bit) and I shouted "HENTAI ESKIMO" and "DAMAGE LIVER" at different points, both times met by a rather awkward silence after. Japanese fans are still really polite, they all shout "Nori-san!!!" though I don't think -san was added to the other guy's names. A lot of people were shouting for Jon (or shouted Ikemen, heh)

I was SO SO SO SO happy when they performed Ever Free live. I LOVE that song, and it was amazing. (Now to watch them perform Kings of Dawn live....!!) And because it was a longer set they played songs like Break Away, So Far Gone and From The Inside Out and TEN which I hadn't watched them perform live before. It was really awesome. You wanted to scream and jump along for the whole set (though sometimes being pushed around subtracted from the experience because I could barely see anyone with all the heads, hair, backs and arms in front of me).

And then during TEN, Jon opened the song by saying it was a special song to them and it was on their latest album. There was no moshing during the song, and Jon really really sang his heart out. It was very soulful and touching, especially at the Can you feel it? echoes/chorus and I was so so so so happy I was there to witness it. The lighting was also really pretty, all purple, and gave it a very surreal feeling.

fade ended with Jon advertising their Sky's the Limit Osaka leg, and said to everyone there "You're coming right?" in Japanese, then thanked us for being such a wonderful crowd. It had been a while since they'd played at a school festival.

Once fade was over, though, the chaos began when everyone swarmed to the front. I had lost an earring, broke my necklace and bracelet in the moshpit for fade but...that was MILD compared to what came next. It was nothing short of apoplectic when the moshing for Miyavi began. It was IMPOSSIBLE to even SEE his hair (especially at my height), and I was knocked against, squashed, shoved about and even stepped on. I couldn't take it and left the mosh pit, moving a few more rows back. It was much better, and I was able to see Miyavi. But it got much too overwhelming for me (and I was too exhausted, having not had lunch) so I left.

I explored the stalls that were still open, basking in the cold air (without my jacket) and buying some food, before I found my friend and we left for home. My other friends who had stayed till the end got to meet and take a photo with Jon! I heard that he appeared on the second story (or upstairs in the gym or something) and waved. I'm not sure if they went to meet him or vice versa but they got to talk to him for a while and take photos. I don't think the other guys came out (pretty sure Rui and Godo were in hiding, lol).

And then I got home, exhausted but satisfied, and impatiently waiting for the next fade live show. See you on the 18th at Shinsaibashi Club DROP, fade!!!